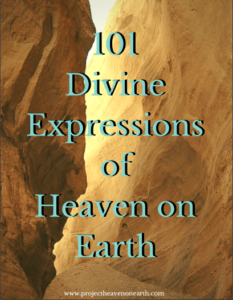 101 Divine Expressions of Heaven on Earth 
Download our free pdf of 101 Divine Expressions on Heaven on Earth. These are quotes from individuals in many different walks of life on what Heaven on Earth means to them.
After you've read them please let us know what Heaven on Earth is for you (you'll see how to do that after Quote 101)
Co-Creating Heaven on Earth – Resource Packet

Bread of Life is a spiritual center offering programs in an economically depressed area of Sacramento, California. Their Co-Director, Sandra Lomasson, felt that Heaven on Earth would be a wonderful program to offer in every church in the country. She wrote this 28-page Heaven on Earth for Congregations Resource Packet. It's available for free, but any donation to help with their work would be appreciated. Donate here.
Heaven on Earth for Law Enforcement
Justin Criner, a police officer in Texas, has created a 16-page manual, Discovering Heaven on Earth for Law Enforcement, that helps anyone begin the process of ending crime in their own community, whether they are in law enforcement or not.
Heaven on Earth Video Contest
Create an entertaining and contemporary YouTube video introducing the possibility of Heaven on Earth becoming a reality in our world.  More than $10,000 in total prizes, with a Grand Prize of $5,000!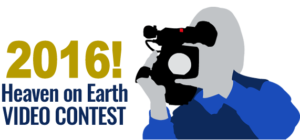 The National Environment Agency of Singapore holds a contest every year in search of a new theme song for their "Clean and Green Singapore" campaign. The 2011 theme song was "Heaven on Earth," music & lyrics composed by Kathryn Cheng.  Here's a beautiful video.
Eden Project
Ross Harvey, Founder, Eden Project says:  "With every act of love, heaven moves closer to earth."
John E. Wade
John is many things: visionary, author, investor, retired CPA, philanthropist & television producer.  He has been deeply committed to Heaven on Earth for many years.  He's published several books, two of which are:    
How to Achieve a Heaven on Earth: 101 insightful essays from the world's greatest thinkers, leaders, and writers

Glimpses of Heaven on Earth: Inspiring Quotations and Insightful Essays